Kennett Square, PA

Deck Company

We are skilled porch and deck builders in Kennett Square, Pennsylvania. We offer the most up-to-date designs and materials for your new deck, and we specialize in both wood and vinyl decks. By prioritizing our clients' needs, we have developed a reputation as a top deck builder and contractor in Kennett Square. We are aware of the big improvement a new deck can make to your home. A brand-new deck adds flair, value, and versatility to your house, whether you're searching for a quiet area to unwind and read a book on a good day or a location to host friends and family. You are sure to find something that works for your new deck installation at our company considering our experts specialize in all types of decks, from straightforward wood to custom-designed composite decks. Additionally, we ensure that all decks we install comply with the relevant building codes despite the wide variety of deck styles and designs we offer to our clients. We commit to managing every facet of the deck building procedure. Our top priority is producing high-quality decks. You can be sure that the service and materials used by Affordable Fencing Solutions for a deck building project or deck installation service will be of the highest caliber possible.

Get Started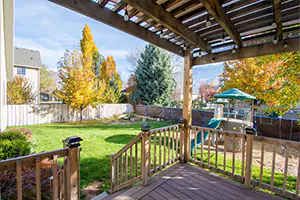 Kennett Square, PA

Experienced Local Deck Builders
When you need a wood deck built or deck repairs in Kennett Square, Pennsylvania, Affordable Fencing Solutions' deck builder services can help you get it done quickly and affordably. With our skilled local contractors with years of experience, we know what it takes to build a great-looking, functional deck that will last. Hire a skilled, professional team to assist you with your new deck installation project so they can handle everything. All of your needs are promptly handled by our deck specialists while still upholding the highest levels of quality control at all times.
Deck Construction Process
Affordable Fencing Solutions is a team of experienced deck installation professionals that can help you get the job done right. As with any building or remodeling process, there are a lot of choices to make on products. Safety is always our top priority since we always install decks in accordance with local building requirements! Our group will deal with contacting the township and obtaining all necessary building permits for decks. We want to create something that will meet your wants and aspirations. We at Affordable Fencing Solutions want you to be happy with your project at every stage.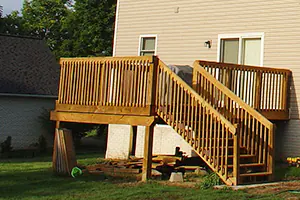 Best Deck Contractor in Kennett Square
As the best local deck contractors in Kennett Square, our team has the skills to install a wide variety of decking materials on your property. We know what it takes to construct an attractive, useful deck that will last thanks to our experienced local builders. Anything we can do to ease the deck-building process for our clients, we make sure to do. Allow Affordable Fencing Solutions to handle and prepare the necessary deck building permits so that you don't have to worry about them. Before beginning the installation of your deck, we make sure that nothing has been missed and that everything has received the township's approval.
Free Consultation