Broomall, PA

Fence Company

Even quality fencing material won't last if it isn't installed properly. That is why our team at Affordable Fencing Solutions, LLC takes the installation of wood fences so seriously. Our Broomall, PA Fencing Company believes in constructing and installing the strongest wood fences available. In order to provide our customers with a genuinely exceptional product, we go above and above the minimum installation criteria.

For over 10 years, our installers have been installing wood fences and other goods in the Broomall, PA area. Their knowledge and judgment are unrivaled, and the fences they construct last considerably longer than other, less expensively built fence items. Our team at Affordable Fencing Solutions, LLC has always believed that performing a good job for a customer is the most essential thing they can do, and we keep that in mind every time we install a new wood fence or wood gate. So if you are looking for a Broomall Fence Company, look no further and give Affordable Fencing Solutions, LLC a call today!

Get Started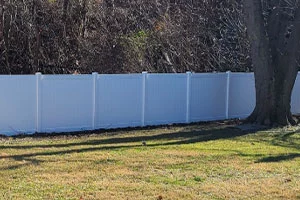 Broomall, PA

Chain Link Fence Company
For decades, chain link fences have been in use. Chain link fencing is popular among homeowners because of its versatility, low cost, little maintenance, and long lifespan. We can install the perfect fence for your home or business, whether it's a traditional galvanized metal chain link fence or one of the modern vinyl coated chain link fences that are available in a variety of colors.

Chain link fencing is extremely adaptable and may be used for a variety of purposes. It has traditionally been used to demarcate property lines, create enclosures for pets and children, and enhance the landscaping of your home. For decades, homeowners have relied on it. Chain link fencing is available in black vinyl coated, virgin PVC vinyl coated, powder-coated with UV inhibitors, and tension wire along the bottom. Welded gates are also available. The usual galvanized chain link fence has tension wire around the bottom and can be ordered with welded gates. The low cost of chain link fencing is one of its best features. When you choose a Broomall, PA Chain Link Fence Company, we urge you to consider Affordable Fencing Solutions. We will work with you to choose the appropriate type of chain link fence for your needs, measure the area where the fence will be installed, and provide you with a FREE on-site quote!
Get A Quote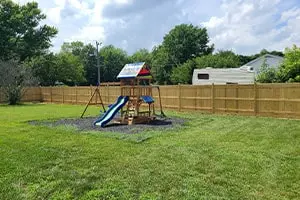 Broomall, PA

Picket Fence Company
Pet confinement, safety, style, and beauty may all be achieved with a picket fence without sacrificing visibility. All of the advantages of a wood or vinyl PVC Fence can be had in a shorter, more controllable shape. Wood Picket Fence typically consists of two rails made of 8' 2x4s, 4x4 posts, and 5/8x4" boards spaced 2"-3" apart. The pickets are available in cedar or pine, and can be cut Gothic, French gothic, or rounded dog-eared to suit your needs. Some Broomall customers choose PVC -Vinyl Picket Fence as an excellent way to have a picket fence without all the upkeep. It comes in a variety of forms to match the wood picket styles. Our Picket Fence Company has worked in Broomall, PA for over a decade and as a result, we are happy to schedule a free, onsite quote. Just give us a call or send us a message using our web form!
Ask an Expert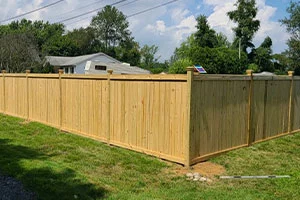 Broomall, PA

Privacy Fence Company
In Broomall, PA, privacy fences are ideal for providing that additional piece of privacy you've been looking for. Your yard needs an experienced, dependable, and dependable local fence business to install your privacy fence. Affordable Fencing Solutions offers a wealth of knowledge and is well-qualified to handle all of your fencing requirements. We can design and build your privacy fence in a variety of styles, colors, and materials, including wood and PVC fencing, to properly complement your current landscaping.

Seclusion fencing is ideal for improving curb appeal, enhancing the value of your house, and providing privacy and security. Our privacy fence professionals will gladly go through all of your options with you in order to assist you in selecting the ideal privacy fence for your home.
Free Consultation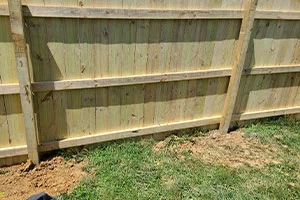 Broomall, PA

Dog Fence Company
Are you considering a fence for your furry friend? Our Broomall, PA Dog Fence Company has been delivering dog fence services for over 10 years and can present you with a variety of fencing options so that your Maltese, American Stafford Terrier, or Husky will be happy with an appropriately sized fence based on their weight, height, and jumping capabilities. We take pride in our dog fences to keep your dog safe in an enclosed environment that offers the freedom a dog desires to run and let out some energy. Contact us today to learn more about how our doggy services could best serve your pup! We provide free quotes and will come out to your home to measure, provide you with options, and discuss the pros/cons of each fence type coupled with the terrain of your home. So don't delay, contact us today!
Book My Appt. Now
Broomall, PA

Fencing Services We Offer
Don't see what you are looking for in the list below? Not a problem! We offer too large a selection to include here and can deliver our services to a wide area of southeastern PA. Contact us to learn more or schedule your free quote!
Bamboo Fence
Barbed Wire Fence
Cattle Fence
Cedar Fence
Chain Link Fence
Chicken Wire Mesh Fence
Composite Fence
Cyclone Fence
Deer Fence
Dog Fence
Driveway Gates
Fence Gate
Garden Fence
Hog Wire Fence
Lattice Fence
Metal Fence
Picket Fence
Pool Fence
Privacy Fence
Privacy Fence Panels
Sliding Gate
Split Rail Fence
Steel Gate
Valley Fence
Vinyl Fence
White Picket fence
Wire Fence
Wood Fence
Wrought Iron Fence
Cities Near Broomall, PA We Frequently Service
Below is a list of cities we commonly service, but often serve many many more.
Aston, PA
Bryn Mawr, PA
Drexel Hill, PA
Havertown, PA
Lima, PA
Media, PA
Springfield, PA
Swarthmore, PA
Wayne, PA