Springfield, PA

Fence Company

Our goal is to build you an attractive, durable, and sturdy fence. Our team of fence builders can help you with everything from fenced-in backyards for your children and pets to safe commercial fences for your business or property. Get in contact with us today to see what fencing alternatives we have for you, with hundreds of types and options to select from.

Please take a few moments to learn more about what distinguishes our local fence company from the competition. We understand that safeguarding your home or business is a huge responsibility, and we don't take it lightly!

Giving You Peace of Mind in Springfield, PA

In this day and age, break-ins and trespassing are rampant and becoming a real issue, so adding an extra layer of security to your house or company is always a good idea. Furthermore, our fencing solutions provide curb appeal and add to your existing property value. It's a win-win!

You can feel certain that you're working with a reputable local fencing business. Give us a call right now and we'll iron out the details together!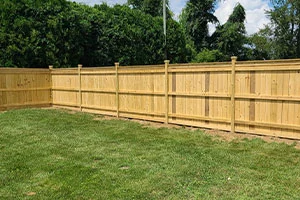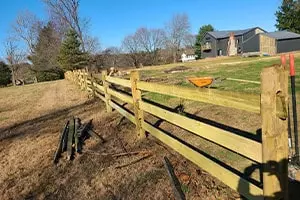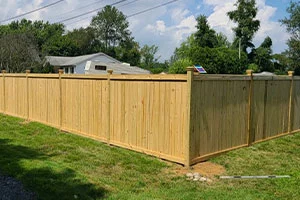 Get Started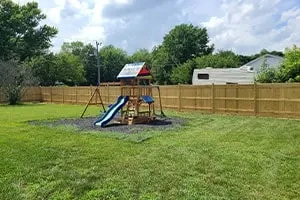 Springfield, PA

Residential Fence Company
Contact Affordable Fencing Solutions to receive a free fence quote for your fence project in Springfield, PA now! Residents in the tri-state area prefer us to install their home fences because of our reliability and focus on customer care. Affordable Fencing Solutions stand out from the competition because of our professionalism, on-time installation, and long-term partnerships. With our name comes the assurance of the high-quality construction, installation, and security to ensure the highest level of satisfaction. Every project, no matter how big or small, gets our undivided attention. Our Springfield, PA fence company's strong follow-through, timely installation, and long-term dependability ensure that you have chosen the best fit for your fence installation.

Affordable Fencing Solutions can meet all of your fencing needs. We have aluminum fences, vinyl PVC fences, wood privacy fences, wood picket fences, and chain-link fences to choose from. These are the most common types of fences.
Get A Quote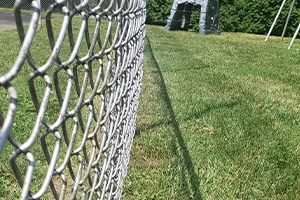 Springfield, PA

Commercial Fence Company
Are you a business owner looking to install a fence? You are in luck. Affordable Fencing Solution not only works with homeowners, but also with businesses. Contact us today and we can review your existing plans or have one of our trained professionals meet you at your jobsite to discuss the best fencing for your particular needs.

We understand that time is of the essence for you. Affordable Fencing Solutions is fully coordinated with general contractors and commercial clients alike, from the speedy turn- around on fence bids to our actual installations. In addition, we will work with your hectic schedule to ensure that it is always the most convenient. You'll notice that we're not your typical Springfield, PA fence company, since our goal is to go in and complete our work professionally, properly, and on time so that your other subcontractors may begin their respective duties.

We are fully licensed and insured. References are available by request. We service Springfield, PA and the tri-state area.
Ask an Expert
Springfield, PA

Privacy Fence Company
Privacy fences expand your property's entire backyard area. They not only increase the safety of you and your family but also improve the appearance of your home. They complete the backyard and can improve the landscaping of your home's quality and appearance. A privacy fence will block off the view into your yard from neighbors and passing vehicles. Call Affordable Fencing Solutions to add a privacy fence to your property in Springfield, PA!
Get A Quote
Springfield, PA

Wood & Split Rail Fence Company
There are many reasons why one might choose to go with a wood or split rail fence. Wooden fences are affordable, durable, and simple. If you want a fence that complements nature well, a unique split rail fence is the best option to offer you the rustic feel you desire. Call Affordable Fencing Solutions to have a wooden split rail fence installed on your property in Springfield, PA.
Ask an Expert
Springfield, PA

Picket Fence Company
You need the professionals at Affordable Fencing Solutions who specialize in installing picket fences. Our builders won't be finished installing your picket fence until you are happy with our work. When you realize it's time for picket fencing installation, you won't find a more skilled renovation company in Springfield, PA than our team at Affordable Fencing Solutions. Our fence installers are knowledgeable, conscientious, and economical.
Get A Quote
Springfield, PA

Chain Link Fence Company
Since 1891, chain link fences have been a common fencing option for both house and business owners in the US. Since they are essentially made of galvanized steel that has been woven into a diamond-shaped mesh, it is not surprising that they go by various names, including wire netting, chain-wire fencing, and wire-mesh fencing. Interesting nicknames for chain link fences include "cyclone fence" and "hurricane fence." They are well-known for withstanding even the worst weather conditions. The most popular type of fencing in the world is chain link because it is inexpensive, available in a huge selection of styles, colors, and levels of quality, and it can withstand the harshest outdoor elements. A chain link fence is the practical way to go for both residential and commercial spaces in Springfield, PA.
Ask an Expert
Springfield, PA

Aluminum Fence Company
Aluminum fencing can withstand severe winds, rain, and even hail that would harm wood or vinyl fencing since aluminum is a strong metal. It requires little upkeep because it is very resilient. This indicates that over time, utilizing aluminum is less expensive than using the majority of other materials. Furthermore, the structure and design of aluminum fences are equivalent to wrought iron and steel fences in terms of bend strength. Enjoy significant cost savings while achieving the wrought iron aesthetic without the expensive costs and responsibility of ongoing upkeep.
Get A Quote
Springfield, PA

Dog Fence Company
Building a dog fence is a simple solution to guarantee that your dog is safe in your yard and has enough room to exercise properly. With our dog fences, Affordable Fencing Solutions is dedicated to keeping your pet secure in your yard. Make the first step toward building a dog fence in your Springfield, Pennsylvania yard by contacting Affordable Fencing Solutions!
Ask an Expert
Springfield, PA

Pool Fence Company
Why install a fence around your pool? You may help keep trespassers out of the pool by installing a pool fence. It will also prevent others from accessing your pool. It is possible to prevent animals from tainting water. Local laws requiring a pool fence are becoming more prevalent. Whether or not you are needed, it's still a smart idea to hire Affordable Fencing Solutions in Springfield, Pennsylvania to install a pool fence!
Get A Quote
Springfield, PA

Fencing Services We Offer
Don't see what you are looking for in the list below? Not a problem! We offer too large a selection to include here and can deliver our services to a wide area of southeastern PA. Contact us to learn more or schedule your free quote!
Bamboo Fence
Barbed Wire Fence
Cattle Fence
Cedar Fence
Chain Link Fence
Chicken Wire Mesh Fence
Composite Fence
Cyclone Fence
Deer Fence
Dog Fence
Driveway Gates
Fence Gate
Garden Fence
Hog Wire Fence
Lattice Fence
Metal Fence
Picket Fence
Pool Fence
Privacy Fence
Privacy Fence Panels
Sliding Gate
Split Rail Fence
Steel Gate
Valley Fence
Vinyl Fence
White Picket fence
Wire Fence
Wood Fence
Wrought Iron Fence
Cities Near Springfield, PA We Frequently Service
Below is a list of cities we commonly service, but often serve many many more.
Toughkenamon, PA
Willowdale, PA