Avondale, PA

Fence Company

Look no further than Affordable Fencing Solutions if you're looking for a wooden privacy fencing company in Avondale, PA. We've installed hundred of thousands of feet of fencing, so we've got the experience and the reputation to back it up! Because of our extensive experience, whether you're picking between a scalloped, dog-eared, or saddled privacy fence style, or between pine or cedar wood, we can show you examples of our work in almost any combination to help you make the best decision! When looking for a premium, professional fence company, ensure they offer high quality materials, can offer references for the fence type you desire, and talk to them about how they install the fence. Not all fence companies are alike, and an experienced team following proper installation methods ensures your fence will last for years to come. Contact us today and get your free, onsite quote today!

Get Started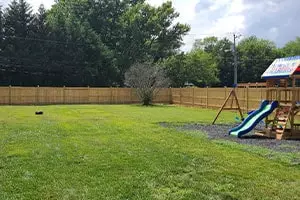 Avondale, PA

Chain Link Fence Company
Looking for a commercial or residential chain link fence in Avondale, PA? No matter if it is In a business, industrial, or residential setting, a chain link fence is an excellent barrier. Affordable Fencing Solutions uses cost-effective & sturdy materials for securing any commercial business, school, or industrial facility. This sort of fence is ideal for regions that require security and protection, as it offers a wide range of materials at an affordable price.

Affordable Fencing Solutions will come out to your apartment building, daycare, warehouse, school, university, or any other business or industrial location for an on-site visit with your organization's administrators. We can recommend one of three styles of residential or commercial chain link fences while you're there:
Galvanized Chain Link Fence:

When you think about chain link fencing, this is probably the first thing that springs to mind. It's strong and long-lasting, making it an excellent choice for commercial and industrial applications.

Vinyl Coated Chain Link Fence:

Vinyl coated chain link fence is just as robust and durable as galvanized fencing, but it has a more complete appearance that is great for businesses, office buildings, and schools.

Chain Link Fence with Barbed Wire:

This type of chain link fence offers the highest level of security. When visitors see this gorgeous — yet unfussy — fence around your business or industrial site, they'll know you're serious about security.
Get A Quote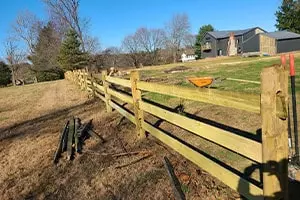 Avondale, PA

Picket Fence Company
A wood picket fence is one of the most recognizable styles of fencing. The traditional white picket fence is still a popular way to add character, flair, and beauty to a home. You're in for a treat if your mind still conjures up pictures of the above as the only way this style of fencing looks these days. Wood and vinyl fences come in a variety of types and colors for your Avondale house today, and they provide a lot of fantastic beauty and seclusion while also keeping dogs and small children safe. Our Avondale picket fences come in a number of styles, and you can trust Affordable Fencing Solutions to deliver the quality and service you expect.
Picket Fence with Dog Ears

While the dog-eared wood fence is considered the most basic design for this sort of fence, it nevertheless gives your home a beautiful sense of completion and solitude. Of course, you may paint it white if you want, but the natural wood grain contributes to the classic look and elegance of this fence.

Picket Fence with Scalloped Edges

A scalloped fence is a work of appealing contrasts, with gently curving lines accented by powerful and solid anchor posts. It's a more modern take on everyone's favorite fence.

Picket Fence in the French Gothic Style

A French Gothic fence gives a strong first impression that attracts attention. A French Gothic pattern is a great method to give that extra degree of aesthetic beauty and intrigue to your wood or vinyl picket fence.
Ask an Expert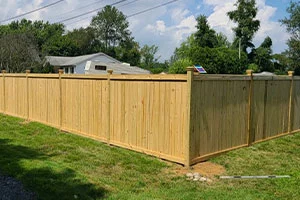 Avondale, PA

Privacy Fence Company
For your Avondale property, our team of skilled fence designers will create a unique privacy fence to meet your home's unique needs. Privacy fences are usually 6 feet tall and obscure the view of your yard from others around you as well as the view of neighboring properties. We can assist you in selecting and designing the best privacy fence style for your needs. For simple requirements, a Dog Eared privacy fence is ideal. Scalloped and saddled privacy fences are classic designs that give a higher level of ornamentation to your yard, enhancing and complementing your surroundings. Wooden privacy fences come in a wide range of styles including dog eared privacy fences and scalloped privacy fences. So whether you want to fence off your pool, backyard, hot tub, or all of the above, give our team a call today and we can schedule a free on site consultation.
Free Consultation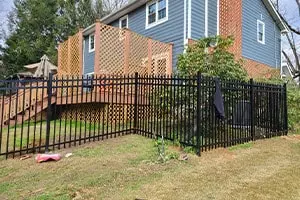 Avondale, PA

Dog Fence Company
Do you want to give your dog the freedom to run out back without worrying about them running away? Our dog fences provide a safe, non-electric alternative to home owners to give them peace of mind whether you choose wooden, vinyl, iron, or more for your new fence. We have many clients in Avondale, PA and so if you are still in the market for a dog fence company, please contact us so we can provide you with a free, onsite quote. Contact us today!
Book My Appt. Now
Avondale, PA

Fencing Services We Offer
Don't see what you are looking for in the list below? Not a problem! We offer too large a selection to include here and can deliver our services to a wide area of southeastern PA. Contact us to learn more or schedule your free quote!
Bamboo Fence
Barbed Wire Fence
Cattle Fence
Cedar Fence
Chain Link Fence
Chicken Wire Mesh Fence
Composite Fence
Cyclone Fence
Deer Fence
Dog Fence
Driveway Gates
Fence Gate
Garden Fence
Hog Wire Fence
Lattice Fence
Metal Fence
Picket Fence
Pool Fence
Privacy Fence
Privacy Fence Panels
Sliding Gate
Split Rail Fence
Steel Gate
Valley Fence
Vinyl Fence
White Picket fence
Wire Fence
Wood Fence
Wrought Iron Fence
Cities Near Avondale, PA We Frequently Service
Below is a list of cities we commonly service, but often serve many many more.
Chadds Ford, PA
Cochranville, PA
Concordville, PA
Garnet Valley, PA
Kirkwood, PA
Landenberg, PA
Pocopson, PA
West Grove, PA
Willowdale, PA