Pocopson, PA

Fence Company

Affordable Fencing Solutions is dedicated to offering a comprehensive range of fence sales and installation solutions for both residential and commercial applications, using the highest quality materials available. Our consumers trust us because of our dependability and quality of work.

We offer Cedar, ornamental aluminum and/or steel, galvanized chain link or vinyl-coated, and many more fencing options. Affordable Fencing Solutions is based in Pocopson, PA and the tri-state area. We offer a variety of wood, vinyl, iron, and composite fencing options and services at an affordable cost!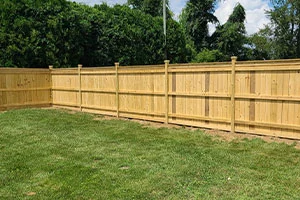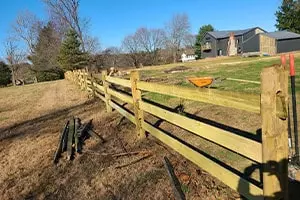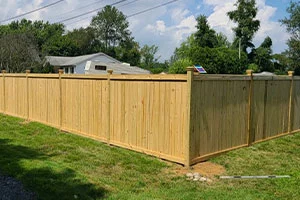 Get Started
Pocopson, PA

Residential Fence Company
Whenever you require a dependable expert for work protecting your home or enhancing your outdoor living area, go with Affordable Fencing Solutions. Residential fencing is our area of expertise at Affordable Fencing Solutions.

To improve the aesthetics and general enjoyment of our clients' homes' exteriors, we provide a wide variety of residential fencing styles. Our amenities and materials are intended to improve property protection overall by increasing use and functionality. Whether our clients are house owners looking for protection or privacy, our aim is to provide them with specialized services that are advantageous to them.
Get A Quote
Pocopson, PA

Commercial Fence Company
Choose Affordable Fencing Solutions when you need a dependable expert for projects requiring perimeter security and control to your commercial business or industry in Pocopson, PA. To safeguard their assets, renters, and clients while exceeding all building requirements, we offer our commercial clients the greatest fencing options. Usability, functionality, and total property protection are all goals of our amenities and materials. Our crew will be there for the entire project, regardless of its size or length. Our supplies and installation work are of the highest caliber. We have the ideal solution for every circumstance, including privacy fence options, security fences, decorative fences, and more.
Ask an Expert
Pocopson, PA

Privacy Fence Company
A privacy fence is a simple way to add a sense of security while also adding to your home's aesthetic. One of the main reasons people want a fence is for the privacy it offers. Affordable Fencing Solutions can install privacy fences in a variety of styles and colors so you can feel that extra sense of security while also blocking off views from neighbors and passing vehicles.
Get A Quote
Pocopson, PA

Wood & Split Rail Fence Company
Wherever your home is, Split Rail fence gives the coziness of country living. Today, give your estate a little bit of serenity. Split rail fencing is excellent for containing livestock or horses. A distinctive split rail fence is the perfect choice to give you the rustic vibe you want if you want a fence that blends in nicely with nature. Cedar wood is the most typical material used in Pocopson to construct a rustic split rail fence. Cedar is ideally suited for a fence in Montgomery County, Bucks County, and the neighboring Philadelphia area since it is naturally resistant to rot and pest infestation.
Ask an Expert
Pocopson, PA

Picket Fence Company
The experts at Affordable Fencing Solutions that specialize in installing picket fences are exactly what you need. Until you are satisfied with our work, our builders won't be finished installing your picket fence. Call us right away, and we'll answer your inquiries and provide you a free fence installation price. You won't discover a more knowledgeable renovation crew than our team at Affordable Fencing Solutions when you realize it's time for picket fencing installation. Our fence installers are skilled, diligent, and cost-conscious. Our crew won't consider your installation complete unless you are completely delighted with our work.
Get A Quote
Pocopson, PA

Dog Fence Company
There's an easy way to make sure your dog stays safe in your yard while also having the space for adequate exercise, and that is to build a dog fence. Affordable Fencing Solutions is committed to keeping your pet safe in your yard with our dog fences. Call Affordable Fencing Solutions to get started on installing a dog fence in your yard in Pocopson, PA!
Ask an Expert
Pocopson, PA

Pool Fence Company
Why install a fence around your pool? Installing a pool fence will assist you in keeping trespassers away from the pool. Additionally, it will keep outsiders out of your pool. Animals can be kept from contaminating the water. It's becoming more common for local ordinances to require a pool fence. Whether you are required, it's still a good idea to have a pool fence installed by Affordable Fencing Solutions in Pocopson, PA!
Get A Quote
Pocopson, PA

Chain Link Fence Company
Install a chain link fence to keep your yard safe and comfortable. This fencing option comes in a range of colors, heights, and residential, commercial, and industrial categories, and it installs quickly for your convenience. It offers flexibility for various uses. We at Affordable Fencing Solutions provide you with a complete selection of goods and supplies to satisfy your needs. We can create a chain link fence in any height or color, making it one of the most adaptable and environmentally friendly fence options on the market.

Allow your new fence to fit in with the surroundings while it establishes your property limits at a reasonable cost.
Ask an Expert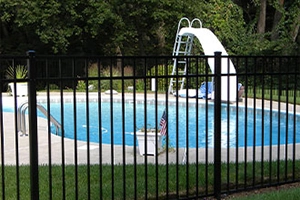 Pocopson, PA

Wrought Iron Fence Company
Wrought iron has a lovely appeal and gives any installation an exquisite look. Affordable Fencing Solutions has the resources and skills to take on projects of any size. For large projects such as public schools, private schools, municipal parks, and public transportation stations, we have constructed gorgeous custom wrought iron fences. Even if your demands are more limited, such as a gate or a small custom wrought iron fence, we can create a fence to match your specific requirements. Our high-quality products can withstand the elements, and our stylish designs provide a lovely touch to any setting. Allow us to create a wrought iron fence to meet your containment and safety requirements while also providing an exquisite design that sets your property apart from the others.
Get A Quote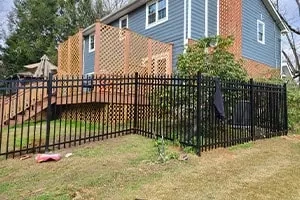 Pocopson, PA

Wrought Iron Gates
Our wrought iron driveway gates have a thicker frame, making them excellent for high-security applications. Wrought iron is extremely difficult to break, making it the finest driveway gate material for people looking for maximum security. On the other hand, wrought iron driveway gates are heavier and more difficult to install, repair, and operate than aluminum or wood gates due to their overall weight and strength. Wrought iron also necessitates annual upkeep, particularly if you reside in a humid area such as southeastern Pennsylvania. To avoid the formation of rust spots where the present paint has been scratched or chipped, we recommend painting your wrought iron fence at least once a year.
Ask an Expert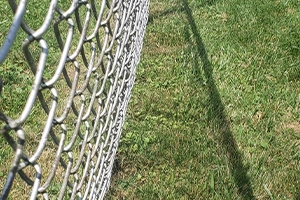 Pocopson, PA

Aluminum Metal Fences
Do you love the look of wrought iron but don't want all of the hassle or expense? Installing an aluminum fence is a terrific way to make your property stand out and give it that one-of-a-kind, unique touch. Affordable Fencing Solutions in Pocopson, PA offers an aluminum fence with a wrought iron appearance. This is a cost-effective option that gives you the elegant look of wrought iron but at the price of aluminum.

Why bother with rust, sanding and painting an actual wrought iron fence when you can have a fence that looks identical with less hassle? With an aluminum fence, you won't have to do much upkeep, and you won't have to paint. Furthermore, the structure and design of aluminum fences are equivalent to wrought iron and steel fences in terms of bend strength. Enjoy significant cost savings while achieving the wrought iron aesthetic without the expensive costs and responsibility of ongoing upkeep.
Free Consultation
Pocopson, PA

Aluminum Driveway Gates
Our aluminum driveway gates require no maintenance and are simple to operate on a daily basis. And as we mentioned above, aluminum is extremely durable, and unlike wrought iron, it will not rust, split, or chip over time. Aluminum driveway gates require far less time and money to maintain than iron or wood gates due to its superior corrosion, chemical, and weather tolerances. These privacy driveway gates will improve the security and curb appeal of your property immediately, and they may be painted if you want to change or refresh the curb appeal of your home over time. Finally, because aluminum is lighter than wrought iron, it is often easier to install, repair (if necessary), and use on a regular basis.
Book My Appt. Now
Pocopson, PA

Fencing Services We Offer
Don't see what you are looking for in the list below? Not a problem! We offer a large selection included here and can deliver our services to a wide area of southeastern PA. Contact us to learn more or schedule your free quote!
Bamboo Fence
Barbed Wire Fence
Cattle Fence
Cedar Fence
Chain Link Fence
Chicken Wire Mesh Fence
Composite Fence
Cyclone Fence
Deer Fence
Dog Fence
Driveway Gates
Fence Gate
Garden Fence
Hog Wire Fence
Lattice Fence
Metal Fence
Picket Fence
Pool Fence
Privacy Fence
Privacy Fence Panels
Sliding Gate
Split Rail Fence
Steel Gate
Valley Fence
Vinyl Fence
White Picket fence
Wire Fence
Wood Fence
Wrought Iron Fence
Cities Near Pocopson, PA We Frequently Service
Below is a list of cities we commonly service, but often serve many many more.
Toughkenamon, PA
Willowdale, PA