East Bradford, PA

Fence Company

East Bradford Township
In 1731, Bradford Township was partitioned into East and West Bradford. Following Birmingham Township's 1856 annexation of a piece of the southern end of the Township, the 15 square miles of East Bradford's current boundaries were drawn. English Quakers made up the majority of the first settlers. Today, East Bradford has a population of little more than 10,000 people.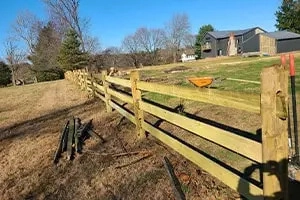 Since 2010, Affordable Fencing Solutions has been taking care of all types of fencing needs in East Bradford, PA. Whether it's residential or commercial, our trained staff have years of professional fencing experience. One of the greatest ways to guarantee that a location is totally secure is to have a cutting-edge fencing system constructed by a renowned and trustworthy business. Please give us a call today to discuss your fencing project!
Get Started
East Bradford, PA

Commercial Fence Company
One of the greatest ways to guarantee that a location is totally secure is to have a cutting-edge fencing system constructed by a renowned and trustworthy business. Commercial fence panels have larger pickets, larger rails, and a thicker gauge of material than residential fence panels, making them more durable. Compared to residential fence panels, the panels have larger rails and pickets. We offer services for all commercial fence products currently on the market.
Get A Quote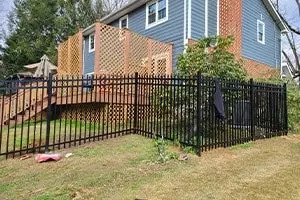 East Bradford, PA

Residential Fence Company
Adding a fence to your property is a terrific way to update the exterior of your home while enhancing protection, privacy, and aesthetic appeal. Even if you have the option, it's typically advisable to hire one of our qualified professionals to complete the task for you. There are many different fencing styles and materials available from us. As a result, you can choose the fence that best suits your requirements in terms of spending limit, design, and functionality. Our painstaking selection of only the best components is the cornerstone of our remarkable quality, followed by our superb craftsmanship throughout production and the attentive installation of the finished product. We provide the full range of services for private residences, business structures, and public areas.
Ask an Expert
East Bradford, PA

Aluminum Fence Company
The most hassle-free, "get it and forget it" fencing material is aluminum. It doesn't need to be painted or stained again every few years like wood does. Additionally, it is impervious to rot and pest infestation.
Free Consultation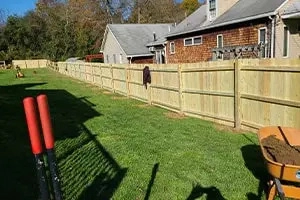 East Bradford, PA

Privacy Fence Company
Privacy fences expand your property's entire backyard area. They not only increase the safety of you and your family but also improve the appearance of your home. They complete the backyard and can improve the landscaping of your home's quality and appearance.
Book My Appt. Now
East Bradford, PA

Picket Fence Company
A picket fence can effectively mark the limits around your property, adding some seclusion and keeping out curious onlookers, stray animals, and kids although not offering protection from criminal intruders. A picket fence is a low-cost approach yet charming way to improve the appearance of any home. A picket fence will add value and beauty to your home regardless of your specific needs.
Get A Quote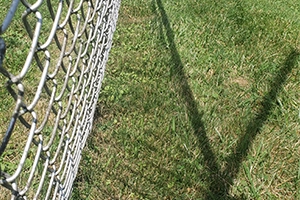 East Bradford, PA

Chain Link Fence Company
A chain link fence has the durability to withstand years of use and abuse. You don't need to be concerned about severe winds or storms wrecking the fence because it can endure the majority of environmental factors. Steel construction makes chain link fences resistant to rot and pest infestations.

A chain link fence gives your residential or business property security while also allowing you to look through it. Both commercial and residential security cameras can benefit from this. It also helps security personnel by giving them great perspectives. This fence's transparency makes more footage visible on security cameras.
Ask an Expert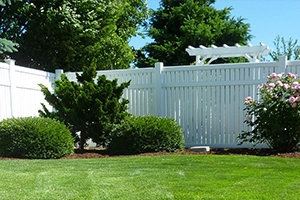 East Bradford, PA

Dog Fence Company
You are fully aware of the risks associated if your dog is let loose in the neighborhood. Pets can become injured, misplaced, or much worse. Every reputable dog trainer also emphasizes the importance of giving our pets enough exercise, and our pet fences are here to assist you with these concerns. Our goal is to maintain the safety, happiness, and health of your pet.
Get A Quote
East Bradford, PA

Pool Fence Company
Installing a fence to meet East Bradford, Pennsylvania municipal rules is a required step in creating a pool. There are many different styles and materials to choose from, and specific gate features to maintain safety. Among the products we offer are chain link, wood, vinyl, aluminum, and composite. Whether you want a picket fence or a privacy fence, we are certain that we have a design that will complement your pool and home.
Ask an Expert
East Bradford, PA

Fencing Services We Offer
Don't see what you are looking for in the list below? Not a problem! We offer too large a selection to include here and can deliver our services to a wide area of southeastern PA. Contact us to learn more or schedule your free quote!
Bamboo Fence
Barbed Wire Fence
Cattle Fence
Cedar Fence
Chain Link Fence
Chicken Wire Mesh Fence
Composite Fence
Cyclone Fence
Deer Fence
Dog Fence
Driveway Gates
Fence Gate
Garden Fence
Hog Wire Fence
Lattice Fence
Metal Fence
Picket Fence
Pool Fence
Privacy Fence
Privacy Fence Panels
Sliding Gate
Split Rail Fence
Steel Gate
Valley Fence
Vinyl Fence
White Picket fence
Wire Fence
Wood Fence
Wrought Iron Fence
Cities Near East Bradford, PA We Frequently Service
Below is a list of cities we commonly service, but often serve many many more.
Downingtown, PA
East Goshen, PA
Exton, PA
Frazer, PA
Lionville, PA
Malvern, PA
Paoli, PA
West Goshen, PA
Willowdale, PA