West Bradford, PA

Fence Company

West Bradford Township
The history of West Bradford Township is lengthy and extensive. It was created in 1731 and is situated in one of the first three counties that William Penn founded when he arrived in Pennsylvania. Because of its perfect setting, which included lush meadowland, robust waterpower, and an abundance of timber, the Township was ready for settlement. Today, West Bradford Township has a population of about 15,000 people.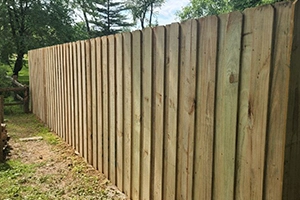 When looking for a fence company in Chester County and nearby counties, choose Affordable Fencing Solutions, LLC in West Bradford, Pennsylvania instead of anything less. We can serve local clients and execute projects quickly and interruption-free thanks to our advantageous location. We can help, whether you're searching for residential or commercial fences or your current fence needs repairs. At Affordable Fencing Solutions, our professionally trained crew has many years of fencing experience. We are the best location to purchase and install fencing. We also fix fences for homes and businesses. Call us right away to talk about your fencing project!
Get Started
West Bradford, PA

Commercial Fence Company
Having a commercial fence installed is a necessary precaution that will help protect your company's assets. Commercial fence panels have larger pickets, larger rails, and a thicker gauge of material than residential fence panels, making them more durable. Depending on the sort of business and business building that the fence is to protect, a number of reliable materials are known to provide the necessary protection. All commercial fence products currently on the market are serviced by Affordable Fencing Solutions.
Get A Quote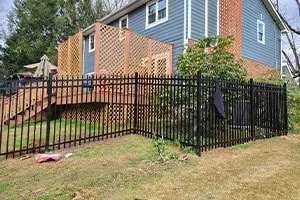 West Bradford, PA

Residential Fence Company
The expertise and real-world experience of the Affordable Fencing Solutions team may benefit every homeowner in the West Bradford area. Our company has been providing the area with a wide range of fence types and designs since 2010. We provide a wide variety of residential fencing designs to improve the aesthetics and general enjoyment of our clients' houses' exteriors. Our amenities and materials are intended to improve property protection overall while also increasing usage and functionality. Whether our clients are homeowners looking for safety or privacy, our objective is to provide them with specialized services that will be advantageous to them.
Ask an Expert
West Bradford, PA

Aluminum Fence Company
Since aluminum is a robust metal, it can endure strong winds, rain, and even hail that would damage wood or vinyl fencing. Due to its high level of resilience, it requires less maintenance. This suggests that using aluminum will ultimately be less expensive than using most other materials. In terms of bend strength, the structure and design of aluminum fences are comparable to those of wrought iron and steel fences. Obtain the wrought iron appearance without the high expenses and continuous maintenance obligations and enjoy huge cost reductions.
Free Consultation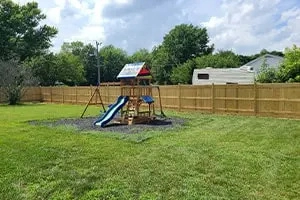 West Bradford, PA

Privacy Fence Company
If you want to increase the feeling of visual security on your property, a privacy fence is the way to go. Customers primarily want fences installed on their properties for privacy reasons. This kind of fencing obscures views from surrounding properties and moving cars. Dogs and other small animals are frequently kept in their enclosures on the property. Whatever your unique motive is for wanting to put in a privacy fence, it will take care of your problems and worries. Additionally, it won't cost much money and will improve the curb appeal of your house or place of business. It's an affordable solution that also offers privacy. You can choose from a number of colors and styles.
Book My Appt. Now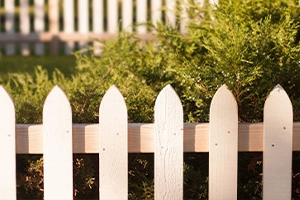 West Bradford, PA

Picket Fence Company
You need the professionals at Affordable Fencing Solutions who specialize in installing picket fences. Our builders won't be finished installing your picket fence until you are happy with our work. When you call us straight away, we'll respond to your questions and give you a free fence installation quote. When you realize it's time for picket fencing installation, you won't find a more skilled renovation company than our team at Affordable Fencing Solutions. Our fence installers are knowledgeable, conscientious, and economical. The completion of your installation won't be deemed complete by our team until you are fully satisfied with the results.
Get A Quote
West Bradford, PA

Chain Link Fence Company
Chain link fencing is one of the most economical ways to secure your property. If you have dogs or other small animals, chain-link fencing is a fantastic alternative. They are a fantastic choice for homes and businesses that have security cameras. Since this sort of fencing is see-through, more regions may be viewed by the cameras without being obstructed by a fence like a panel fence. Galvanized or aluminum, as well as vinyl-coated hues like green or black, are all options for chain link fencing. Privacy slats and privacy screens are offered for both residential and business installations. Another choice is barbed wire.
Ask an Expert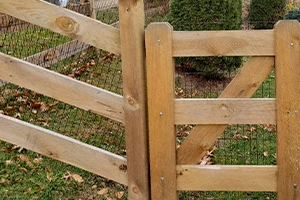 West Bradford, PA

Dog Fence Company
There's an easy way to make sure your dog stays safe in your yard while also having the space for adequate exercise, and that is to build a dog fence. Affordable Fencing Solutions is committed to keeping your pet safe in your yard with our dog fences. Call Affordable Fencing Solutions to get started on installing a dog fence in your yard in West Bradford, PA!
Get A Quote
West Bradford, PA

Pool Fence Company
There are many reasons why you should have a fence installed around your pool. Even if you don't have to due to local ordinances, it's still a good idea to have a pool fence installed. You can take the first step to keeping trespassers and animals out of your pool with a call to Affordable Fencing Solutions.
Ask an Expert
West Bradford, PA

Fencing Services We Offer
Don't see what you are looking for in the list below? Not a problem! We offer too large a selection to include here and can deliver our services to a wide area of southeastern PA. Contact us to learn more or schedule your free quote!
Bamboo Fence
Barbed Wire Fence
Cattle Fence
Cedar Fence
Chain Link Fence
Chicken Wire Mesh Fence
Composite Fence
Cyclone Fence
Deer Fence
Dog Fence
Driveway Gates
Fence Gate
Garden Fence
Hog Wire Fence
Lattice Fence
Metal Fence
Picket Fence
Pool Fence
Privacy Fence
Privacy Fence Panels
Sliding Gate
Split Rail Fence
Steel Gate
Valley Fence
Vinyl Fence
White Picket fence
Wire Fence
Wood Fence
Wrought Iron Fence
Cities Near West Bradford, PA We Frequently Service
Below is a list of cities we commonly service, but often serve many many more.
Downingtown, PA
East Goshen, PA
Exton, PA
Frazer, PA
Lionville, PA
Malvern, PA
Paoli, PA
West Goshen, PA
Willowdale, PA